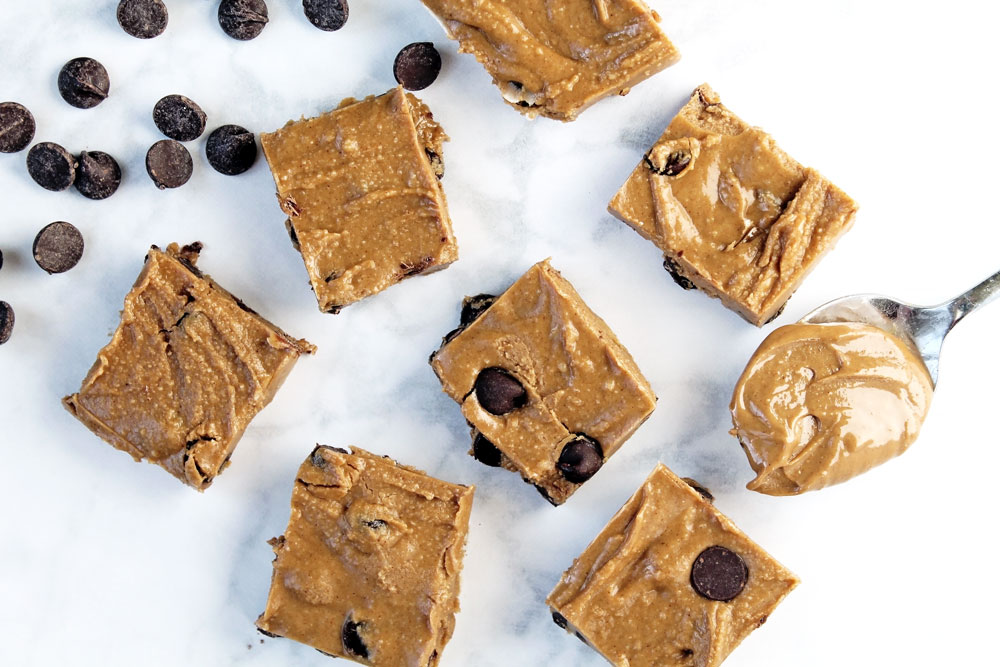 The other weekend my sister-in-law made these ridiculous chocolate peanut butter bars for Father's Day. You know the ones with the butter, powdered sugar and thick layer of chocolate on top? My mom used to make them when I was growing up too. They are ridiculous.
I took a spin on the idea and made this Chocolate Chip Peanut Butter Fudge. Since I'm trying to watch my sugar (and this fudge barely has any!) I decided to just add in some chocolate chips instead of melting chocolate on top of the entire thing. This is also a super easy dessert to keep in your freezer and grab a small square when needed; which for me is like every like 3 hours. 😉
Take a look at our video to see how easy they are to make!
Chocolate Chip Peanut Butter Fudge
2017-06-25 11:12:45
Ingredients
1 cup of natural peanut butter
2 tablespoons of coconut oil
1 tablespoon of honey
3/4-1 cup of almond flour
1 teaspoon vanilla
Chocolate chips
dash of sea salt
Instructions
Mix all ingredients together and then spread into a glass dish lined with parchment paper. *The amount of flour will depend on how much natural oil is in your peanut butter, start with 3/4 cup and then slowly add in the last 1/4 if needed. It should mix in well.
Freeze until firm.
Cut into small squares.
Notes
Please note depending on the temperature these may melt easily. Enjoy straight from the freezer.
Spinach for Breakfast https://www.spinach4breakfast.com/