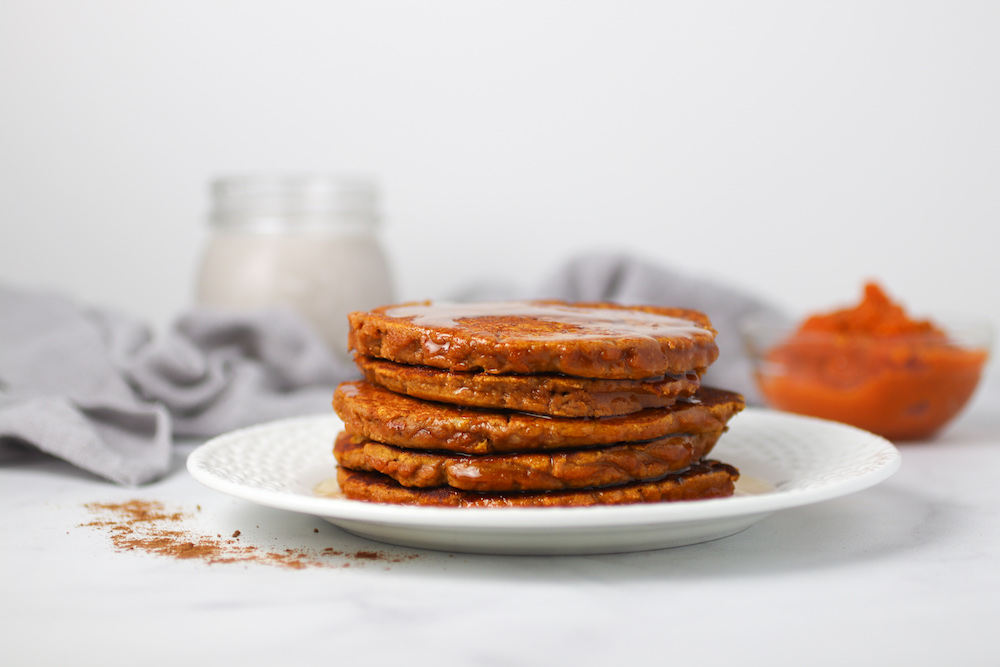 GRAIN FREE Pumpkin Pancakes
With Alyssa's SIBO symptoms, I'm trying work on some "gut friendly" recipes for her and all of you. So many of you have been commenting that you either have SIBO yourself or are experiencing the same symptoms. The difficult part for recipe creation is everyone tolerates different things!
What Alyssa and I have learned over the years both with my gut issues and hers is that there is no "one gut diet fits all." Or any diet for that matter. You really need to do your research on what's recommended for your specific symptoms, and then really figure out for yourself what causes those symtoms to flare and what makes you feel good. This is one reason why we are huge supports of the Clean Program. It was the first "cleanse program" we ever did, and most likely the only program we will ever to.
These pancakes are gluten free and dairy free, have eggs for protein and flax meal for fiber. If you can't tolerate traditional pancakes, give these a whirl!

Grain Free Pumpkin Pancakes
2018-09-29 06:40:15
Serves 9
Ingredients
4 eggs
1 cup pumpkin
2-3 tablespoons of maple syrup
2 teaspoons of cinnamon
1 teaspoon of pumpkin pie or apple pie spice
½ teaspoon of baking powder
2 tablespoons of flaxseed
Dash of sea salt
1 teaspoon of vanilla
1/3 cup coconut flour
Instructions
Whisk 4 eggs together until well combined and slightly airy.
Add the pumpkin, maple syrup, cinnamon, pumpkin spice, baking powder, flaxseed, salt, and vanilla. Mix until combined.
Preheat a pancake griddle or large non-stick skillet on low heat (250-350*).
Add the 1/3 cup of coconut flour and mix. The batter will be thick.
Spray the griddle with oil. Use a ¼ measuring cup to scoop out the batter. Pour onto the griddle, then gently use the bottom of the measuring cup or the back of a spoon to flatten the batter (tap or swirl). Repeat.
Cook for 5-6 minutes, until the edges are cooked. Flip, then cook the second side for 4-5 minutes.
Spinach for Breakfast https://www.spinach4breakfast.com/