Everyone needs that good staple, go-to banana bread recipe. The one where you no longer need to look at the directions because you've made it so many times you just know what to do. So I thought I had it, until I made this one!
This healthy banana bread recipe actually comes from our intern Lindsay's grandmother. And you know any recipe that comes from a grandma is going to be good. 🙂 Lindsay said she grew us making this ALL the time. Then over the years she started to make this bread a bit healthier, because you know; we don't use 3 cups of sugar anymore. 😉
We experimented a bit more and came up with this amazing recipe! This bread is naturally sweetened with bananas, apple sauce and coconut palm sugar. You can make it using whole wheat flour or gluten free all purpose flour, depending on your needs. It's also super simple to make. Hardest part is slicing the banana to layer on top. 😉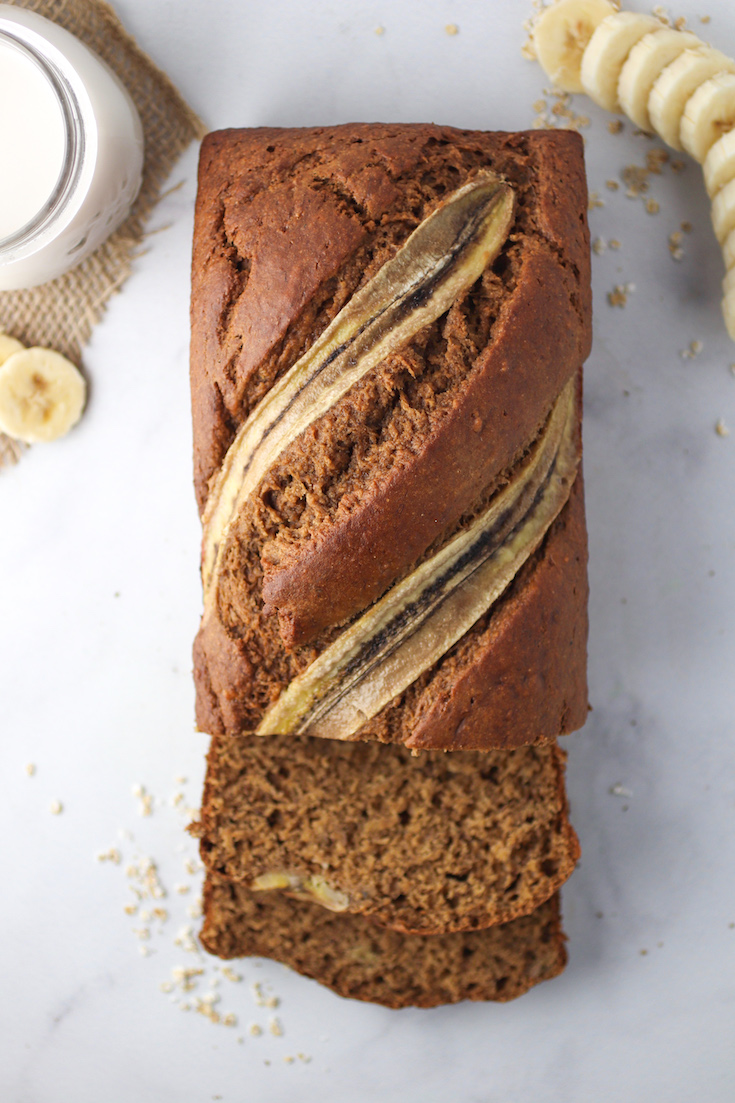 healthy banana bread
2018-08-11 05:20:30
Ingredients
2 large or 3 small ripe bananas
2 eggs
3 tablespoons of olive, walnut, or melted coconut oil
1/2 cup of applesauce (sweetened or unsweetened)
¼ cup of nut milk
1 tablespoon of vinegar
2 teaspoons of vanilla
1 teaspoon of baking soda
1 ¾ cups of flour (organic whole wheat or gluten free all purpose)
¾ cup of coconut palm sugar
½ teaspoon of salt
½ teaspoon of nutmeg
1 teaspoon of cinnamon
Chopped walnuts (optional)
Semisweet chocolate chips (optional)
Instructions
Preheat the oven to 350 F
Mash the bananas in a large mixing bowl with a fork.
Add all the other wet ingredients (eggs, oil, applesauce, milk, vinegar, vanilla) and mix with a fork until well combined.
Add the baking soda, flour, cinnamon, salt, and nutmeg. Mix to combine. It should form a thick but not dry batter.
Stir in any desired toppings (walnuts, chocolate chips).
Pour the mix into a greased loaf pan.
Bake until the top is golden brown and splits, around 1 hour.
Notes
If using gluten free flour, the brand may alter the taste/texture slightly!
Spinach for Breakfast https://www.spinach4breakfast.com/