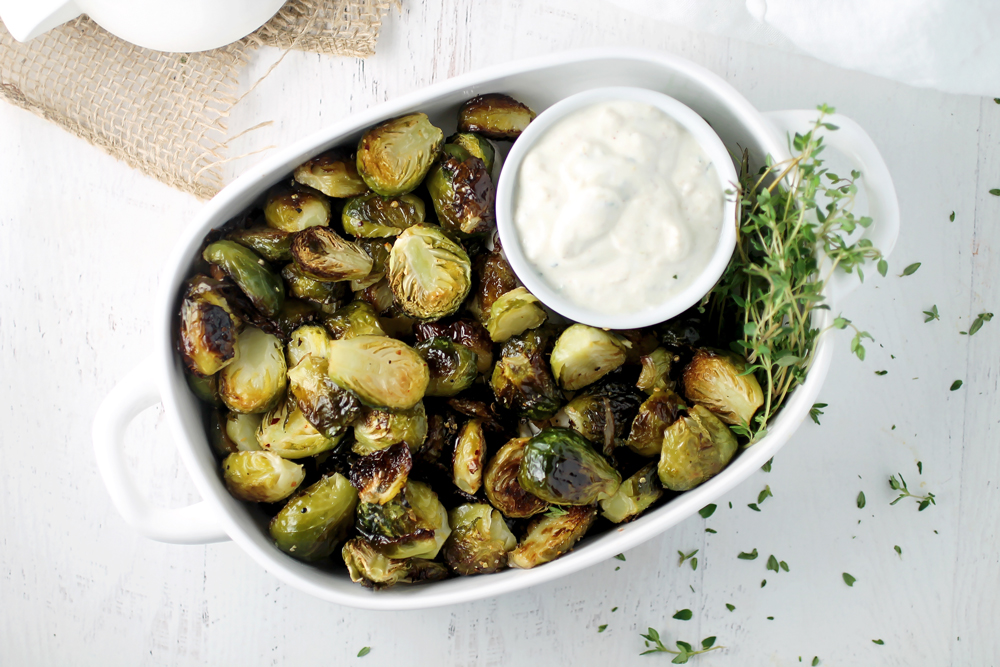 This year Maria is spending Christmas with Lou's family, and I am heading home to MA to spend the holidays with my parents. Let's just say I'm the favorite child this year. 😉
A variety of vegetable based dishes are always a staple at our house, and the holidays are no exception. Instead of our usual roasted veggie melody, this year I decided to try a brussels sprouts and dip recipe for my mom to add to her list (Vera, I hope you're reading). This dish can be served as an appetizer (I know, we would have brussels sprouts as an appetizer) or with the main meal. This dip is also lightened up big time with the use of greek yogurt instead of mayo or sour cream.
Wishing everyone a healthy and happy holiday!
Roasted Brussels Sprouts with a Garlic Parmesan Dip
2016-12-18 15:59:46
Ingredients
1 package of brussels sprouts, ends trimmed and cut in half
Extra virgin olive oil
sea salt and pepper
1/3 cup of plain greek yogurt
2 teaspoons of lemon juice
2 teaspoons of minced garlic
1/4 to a 1/2 teaspoon of garlic salt
1 1/2 tablespoons of fresh parmesean cheese
1 tablespoon of finely chopped thyme
Instructions
preheat the oven to 400 degrees F
toss the brussels sprouts in olive oil, sea salt and pepper
spread on a baking sheet and shake for 25-30 minutes until tender and crispy
in a small bowl, mix together the greek yogurt, lemon juice, fresh garlic, garlic salt, parmesan cheese, chopped thyme and a few dashes of black pepper. *you can adjust the amount of garlic and parmesan to personal preference
Cover and allow to chill in the fridge until the brussels sprouts are done roasting.
Serve brussels sprouts and garlic parmesan dip together for an appetizer or side dish.
Notes
Double this recipe for a crowd.
Spinach for Breakfast https://www.spinach4breakfast.com/