Finally… a soup that is not pureed 🙂
This is a great recipe for anyone participating in the Clean Gut Cleanse.Clean Gut involves cutting out foods that feed bacteria and yeast and foods that are difficult to digest (i.e. gluten, dairy, processed foods, most fruit, sugar, etc.). This leaves you with a list of easy to digest, low-sugar foods. It also involves "repairing" the gut by taking probiotics, natural vitamins and supplements to promote good bacteria/flora and healthy digestion. It's for anyone with "stomach issues," which unfortunately seems to be a rising issue in today's over-processed society. This Turkey Sausage & Kale Soup serves as a clean, satisfying meal whether you are participating in a cleanse or just looking to swap in something healthy!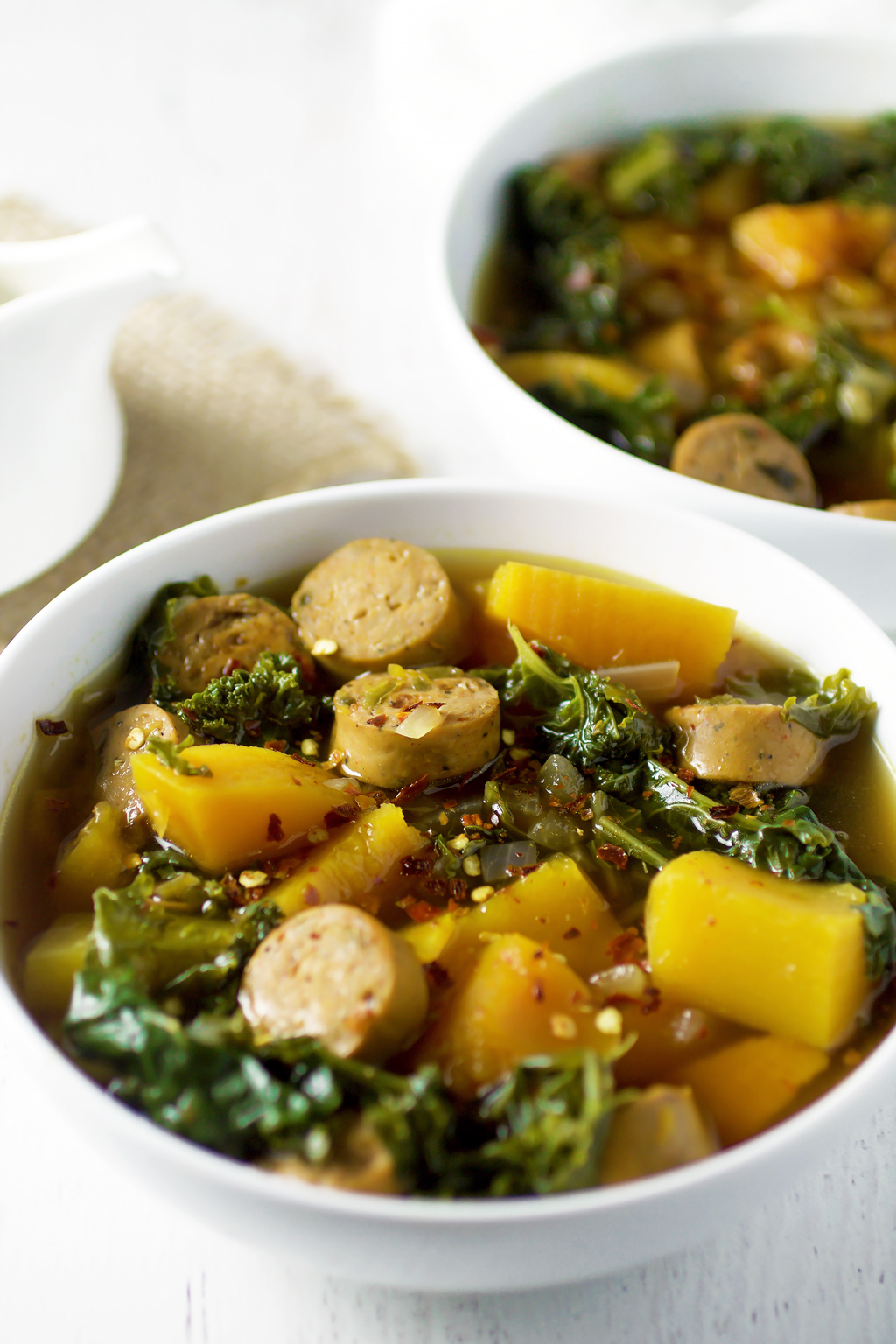 Turkey Sausage & Kale Soup
2016-11-21 20:37:02
Ingredients
4 cups of vegetable broth
4 cups of water
1lb of organic turkey or chicken sausage, no pork casing (we used sweet Italian)
1/2 onion diced
1 package of cubed butternut squash (or 1 butternut squash peeled and cut into cubes)
4 cups of chopped kale
Sea salt & pepper
Red pepper flakes (optional)
Instructions
Slice sausage into pieces and sauté in a medium saucepan.
After approximately four minutes add onion and sauté until translucent.
Pour in water, vegetable broth, butternut squash and kale into saucepan and simmer for about 20 minutes until the squash is fork tender.
Add salt, pepper and red pepper flakes (if you want a little kick) to taste. Serve warm.
Notes
Adapted From: I Breathe I'm Hungry
Spinach for Breakfast https://www.spinach4breakfast.com/
Shop the Post